Topinambur`s black soul "Crumble"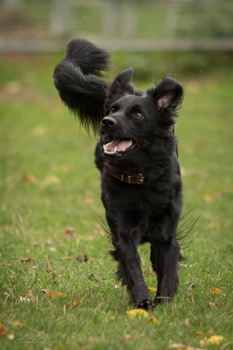 Crumble .... our speed girl ... racing roll .... Crazy Girl ... always ready dog ​​....
Since Trouble's first litter didn't leave a baby (a miracle), of course, she had to stay a girl from her second and last litter. There it is now ... the black pearl. Measure 100,000 volts. A sensitive little mouse that is incredibly quick at everything. Sometimes the feet are faster than the brain can think ... but they always try to do everything right. We started training. Here, too, she is very talented and very trainable. Sometimes we are only concerned about their speed ... but we are on the right track. She works with the animals with a great feeling. Her flanks are not her strong point but she makes up for it with speed. Now she's helping me sort out very well.
Always friendly and open to all people. Sometimes a little Miss Rottenmaier in the pack… .but a great playmate for the puppies. Very honest little dog ... I just like this flea.