When we brought Cookie 2004 to us we had no thought of herding, but the operators of our dog school (who own Kelpies) made us aware during the puppy school that there was a certain potential in Cookie. Cookie was 11 months old when we finally took heart and let them "try out" the sheep.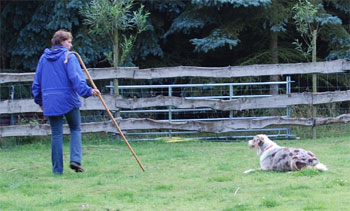 It was great, she immediately looked for the 12 o'clock position and seemed to know to some extent what she had to do, which I couldn't say.
Of course, the whole thing got out of control quite quickly, because our dog was getting faster and faster and the thing with the outrun is not exactly her strength and I, completely overwhelmed, no longer knew where I was actually.
But since then we are very enthusiastic and attended our first Aussie herding clinic with Sandra Zilch in 2006.
In the meantime we have attended a number of seminars and we will definitely also be attending a few more and now finally have our own sheep, because the best seminar does not help if you cannot do the whole thing at home and train and try it out for yourself. In 2008 Cookie and I want to get a taste of Trial air for the first time - I am already really sick;)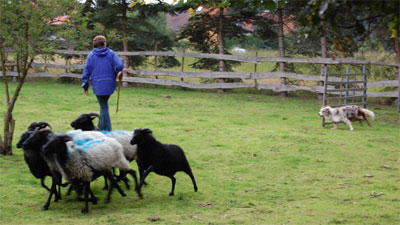 Since we also want to give other herding enthusiasts the opportunity to keep their dogs in line with their breed, we have decided to offer a herding training option for our sheep soon.
Dates will then be announced here.
2011:
In May we finally tried our hand at organizing and organizing a hat seminar and can say that it was a success. We have decided to repeat this at regular intervals. Here are a few impressions from the first Topinamur herding clinic with Sandra Zilch.
Herding clinic at Topinambur Album 1 / Fotos by Janna Kreuder click here
Herding clinic at Topinambur
Album 2 /
Fotos by
Linda
click here